Have You Been Considering Medication To Address Your Mental Health Challenges?
Have fear and worry become so persistent that they prevent you from relaxing or getting a good night's sleep? Are intrusive thoughts interfering with your daily life and making it hard to concentrate? Has your primary care provider suggested treatment options, such as therapy or medication, but you don't know what approach would be best for you?
Life these days can be hectic and it's normal to struggle with an array of different mental health concerns. Perhaps you've grown increasingly anxious and have trouble clearing your mind and falling asleep. Or maybe depression has drained the enjoyment out of activities you once enjoyed or has sapped your motivation. And if you suspect you may have undiagnosed Attention-Deficit Hyperactivity Disorder (ADHD), you may have a hard time trying to maintain focus.
You May Have Misgivings About Taking Medication
The idea of taking medication may scare you. After all, you may have legitimate concerns about the side effects of taking prescription drugs and worry that you will no longer feel like yourself if you are prescribed too high a dose of psychiatric medication.
As much as you may want to avoid medication, perhaps you also recognize that you certainly don't want to go on feeling the way you currently do. If your symptoms are negatively affecting your quality of life, it's a good idea to find out what your options are.
The good news is that when you choose treatment with Colorado CBT, you will receive a multi-pronged approach to mental health and wellness. In addition to talk therapy, we also offer medication management services with an in-house provider. They will provide you with well-rounded, compassionate, and personalized care that goes beyond simply writing you a prescription.
Taking Prescription Medication For Mental Health Disorders Is Very Common Nowadays
Over the past several decades, numerous prescription medications for mental health disorders have been developed and distributed throughout the world. According to the Centers for Disease Control (CDC), nearly 16 percent of Americans take prescription medications for their mental health each year.
The stigma that was once associated with taking medication for disorders such as anxiety, depression, insomnia, or ADHD has faded over time. As medications to treat these common mental health challenges have grown increasingly effective with fewer side effects, they have become ubiquitous in medicine cabinets across the world.
Our Individualistic Culture Seems To Be Contributing To Mental Health Challenges
It is currently estimated that "one in five adults live with a mental health disorder." Taking a step back, we may wonder what has given rise to this startling statistic. In many ways, our lack of fulfillment can be attributed to cultural norms that value individualism and success over anything else.
When the predominant societal drive is to be hyper-focused on money, status, and portraying a seemingly "perfect" persona to others on social media, we may become isolated and disconnected from the values that offer genuine happiness. And when we are no longer aligned with our values, we become prone to anxiety and depression. All the focus on external values causes us to neglect our mental health and avoid our emotions.
Lacking objectivity, it's easy to lose perspective about our struggles. We may compare ourselves to others and conclude that we are not measuring up to the high expectations placed upon us. Or, conversely, we may determine that our circumstances aren't nearly as bad as what others are going through so we shouldn't complain or seek help.
But the truth is that everyone faces mental health challenges from time to time. And it's okay to seek help when you need it. At Colorado CBT, we offer a full spectrum of mental health services under one roof, including medication management and therapy. Regardless of what treatment course you ultimately decide to choose, we have all options covered.
Medication Management For Your Mental Health Offers You Peace Of Mind
Mental illness of any kind can feel isolating and hopeless, touching all areas of life—from career to relationships to aspirations and beyond. Here at Colorado CBT, we believe in evidence-based approaches to restoring mental health where you are an integral part of the solution.
If you are considering taking psychiatric medication, we want to ensure that you make an informed decision that carefully weighs the risks and benefits of your available options. Not only will the conversations with your care provider be informative, but the choices you make will be reached collaboratively.
Medication Can Be A Beneficial Adjunct To Treatment
For some, incorporating medication into mental health treatment can be a beneficial component of the recovery process. The good news is that in an addition to our team of highly trained therapists, Colorado CBT  offers comprehensive medication management services conducted by our in-house Psychiatric Mental Health Nurse Practitioner.
Having access to medication management that can be integrated into therapy offers you the best of both worlds. We won't give you a prescription with no questions asked and hurry you out the door. Instead, we are here to provide you with empathy and compassion, holistically supporting you on your journey toward healing.
What Our Medication Management Services Look Like
Your therapist or nurse practitioner will conduct an initial assessment to determine what your current challenges are. Once all the therapy and medication options are laid out for you, it will be up to you to decide what direction you want to take. Depending upon your circumstances, you may decide to choose therapy, medication, or a combination of the two.
If at any point you decide to take medication, here's what you can expect from us:
Listening: Before prescribing any medication, we want to hear your story. Our program centers around listening and the exploration of all options.

Collaboration: We want to honor your questions and concerns about medication and arrive at an effective solution together. We will ensure that you are aware of each medication option available as well as any potential side effects.

Nonjudgment: We will always prioritize your preferences and move forward in an open-minded, judgment-free manner.
Medication management will be an ongoing process. Your practitioner will check in with you periodically to assess how you're feeling and make any necessary adjustments to your dosage. Additionally, they will coordinate with your primary care provider to make sure that whatever is prescribed will not interfere with any existing prescriptions. And with virtual-only appointments, the process of treatment will be time-efficient and convenient.
While therapy is often the best available mental health treatment, sometimes the extra support that medication offers can help you establish a better headspace in which to receive therapy. Our goal is to make our prescription psychiatric medication management services short-term so that eventually you can be guided away from medication.
But You May Wonder Whether Medication Management Is Right For You…
Will I have to take medication forever?
Understandably, you may be concerned that once you start taking prescribed medication, you'll have to continue taking it long-term. However, how long you take medication depends on the medication itself. While some psychiatric medications can be taken only as needed, many are designed to be taken for a prescribed period. Some clients may benefit from remaining on certain medications, but in other cases, a prescription may be short-term.
I'm afraid that taking medication will change my personality.
Although you may be concerned that taking something will alter your personality, the reality is that psychiatric medications are designed to help you feel more like yourself. For example, a sleep aid will help you get the rest you need. An anti-anxiety medication will aid in reducing your symptoms, allowing you to feel more relaxed and able to focus on what you care about. Similarly, an antidepressant will improve your mood and restore your motivation so that you can enjoy life again.
What if I experience side effects from my medication?
Side effects vary depending on the medication. The benefit of receiving medication management under the supervision of a psychiatric nurse practitioner is that they will review the potential side effects of any recommended medications with you in advance as well as determine if it is contraindicated for any existing prescription you take. Most people find the benefits of the medications they are prescribed outweigh any potential side effects.
Medication Management May Be The Boost You Need To Restore Mental Well-Being.
If you are burdened by mental health challenges, sometimes medication and psychiatry can make all the difference. If you would like to find out more about medication management, please visit our contact page to schedule a consultation.
Contact a Board Certified Psychiatric Mental Health Nurse Practitioner Today
Hear from a few of our satisfied patients.
"Luana is a wonderful nurse practitioner and a very kind and understanding person. The online appointments are easy and I like that I don't have to worry about parking and sitting in a waiting room. I recommend her without reservation. "
"I've seen many psychiatrists and nurse practitioners over the years, and no one has been near as helpful as Luana! Luana is very kind and non-judgmental and the online appointments mean I can attend my appointment during my work day. I highly recommend Luana."
"I've been looking for a prescriber for months. I called the clinic and had an appointment scheduled the same week. Upon meeting with Luana it became clear she truly cares about her patients. She spent time listening and understanding and worked with me to develop a plan to help me. I plan to continue to see her and highly recommend her."
Meet Luana Rutherford, Our Psychiatric Mental Health Nurse Practitioner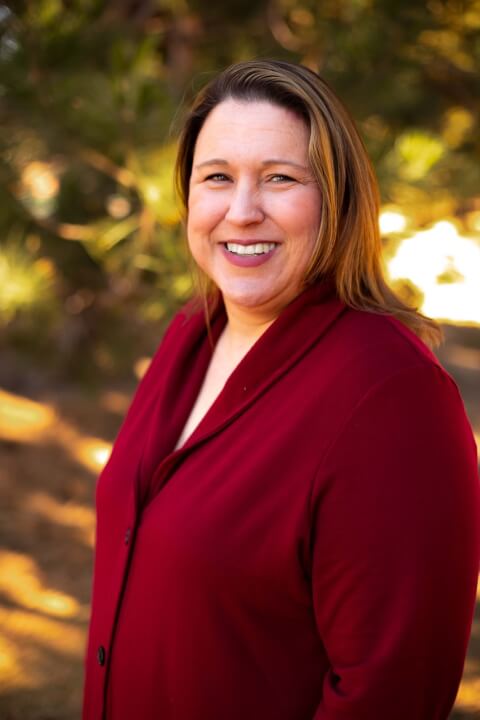 Luana Rutherford, PMHNP-BC
Psychiatric Mental Health Nurse Practitioner-Board Certified
(Independent Contractor)
Luana Rutherford is an ANCC Board Certified Psychiatric Mental Health Nurse Practitioner (PMHNP), licensed in Colorado. Luana received her Post-Master's Certificate in Psychiatric Mental Health from Walden University in 2018, and has since practiced as a Psychiatric Mental Health Nurse Practitioner in residential treatment facilities, private practice, level one psychiatric hospitals, and numerous geriatric facilities. Prior to her PMHNP certification Luana worked as an RN at several level one psychiatric facilities since 2012 and became the Chief Nursing Officer of the largest level one psychiatric facility in Arizona in 2017. Luana spends her free time reading, camping, and playing with her 3 rottweilers and 2 french bulldogs.
Luana treats children over the age of five, adolescents, adults, and the geriatric population in Colorado.
Work With Luana
Luana works with her Colorado patients online only. Online sessions are both convenient and safe for our patients during this COVID-19 pandemic.
Luana is an in-network provider accepting the following insurances: Aetna, Cigna/Evernorth, United/Optum, Anthem/Blue Cross Blue Shield, Medicare, and Medicaid.
To work with Luana, please reach out and make an appointment or call 720-694-9908!